2 min read
August report 2020
A quick summarization of all changes and news from the entire Total.js Platform. Read more about our work.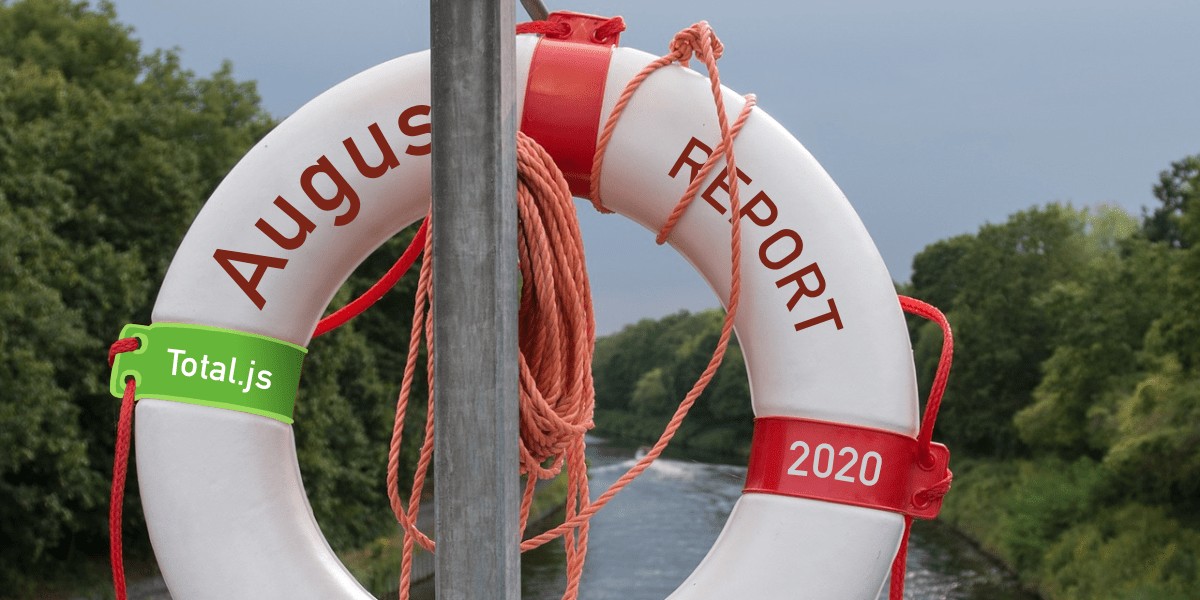 August report 2020
UI components
improved j-Movable, output list is generated from parent element
improved j-TextboxList by adding chaning of position for existing items
improved phone and email types in j-Input component
improved code in j-Message
improved code in j-Detail
improved resizing in j-DataGrid
improved resizing in j-Layout2
fixed auto-suggestion in j-Directory
fixed a problem with scrolling to selected item j-Directory
fixed scrollbars and styles in j-Layout2
jComponent library
improved component.watch(), now replaces ? for a component path
fixed data-bind commands with nested selectors
fixed flag @type:something in UPD() method
fixed track command in data-bind
added NODEINSERT() for DOM manipulation
added NODEMOVE() for DOM manipulation
added NODEINDEXOF() for DOM manipulation
updated CSS(css, [id], [wrap_selector]) by adding a new wrap_selector argument
added Number.round() method by Tomas Novak
updated Array.quicksort() by adding multi-sort support
updated ADD('!loading') which adds component if doesn't exist
updated data-bind, it can set a value to component via set command
Total.js framework
fixed: applying of default_root in static files
improved mail error handling
fixed routing evaluation
added a support for Total.js v4 UID validation
improved file stats
Total.js 4
Good news: Total.js v4 is almost ready for release, we work on documentation.
TextDB supports inner joins
TextDB improved reading
RESTBuilder fixed dnscache
added in-memory DB
improved components
improved file stats
OpenPlatform
last notifications are part of notification mail message
improved markdown in notifications window
improved languages
added approve, can be executed via OP.confirm('message', 'button', function() {})
fixed badge in Favicon
updated Markdown
fixed report form
Code Editor
improved auto-complete with PLUGINS
fixed removing of dark-mode
updated jComponent
CMS
added a new widget ContentCards by Dodo
added a new widget InlineList3 by Dodo
added a new widget Alert2 by Dodo
improved ContentBanners
DBMS
updated builder.gridsort() supports multi-sort e.g. ispriority_desc,dtcreated_desc
updated builder.autofill() supports multi-sort
improved builder.in(name, value, [field]) filter by adding field argument
added a new filter builder.owner(name, value, members, [condition])