4 min read
March report 2021
A quick summarization of all changes and news from the entire Total.js Platform. Read more about our work.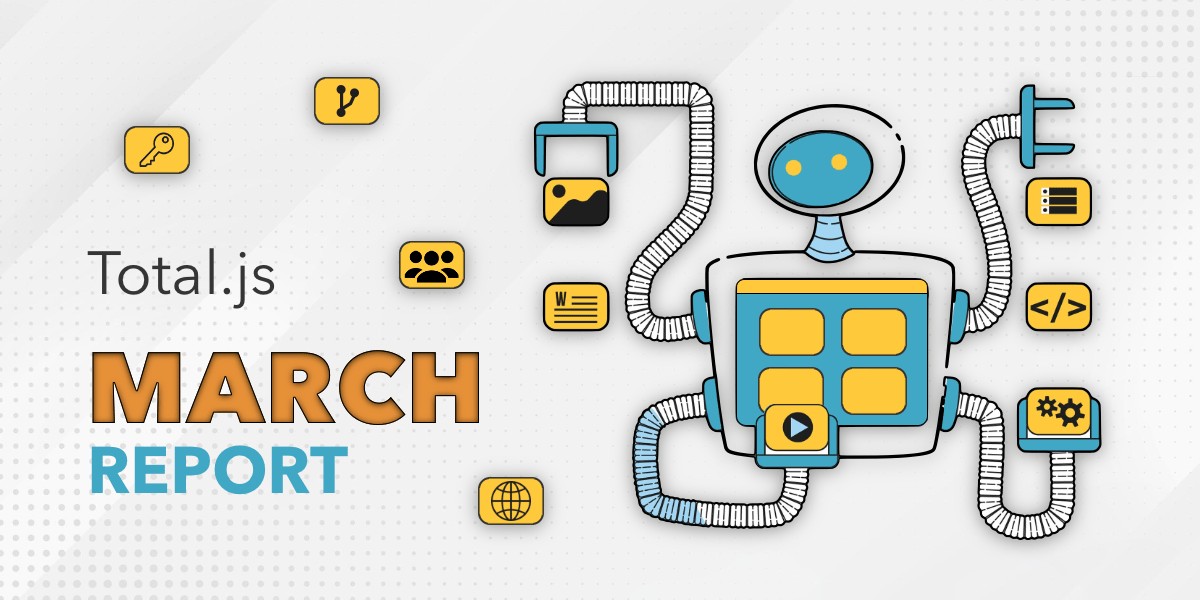 March report 2021
UI components
added new component j-Breadcrumb
added new component j-Extend
added new component j-Masonry
added scrollbarshadow option to j-FullForm, j-LargeForm, j-Panel and j-Window
updated j-FloatingInput by adding multiline option
updated j-FileUploader component by adding opt.files option
updated design of j-Intro component
improved j-Validation by adding validonly option
added minheight option to j-Sticker
added check option to j-Part
fixed resize in j-ViewBox
fixed border-radius for j-MiniForm
fixed markdown parser in j-Markdown
fixed CSS radius and colors in j-Intro
fixed focus/blur and binding of values in j-Input
fixed helper classes in j-Input
fixed custom values (with the enter key) in j-Directory
fixed clear buton in j-DynamicValue
fixed line chart and video in j-Markdown
fixed colors in j-DataGrid
fixed removing of -modified class in j-Validation
fixed uploading files in j-FileUploadList
fixed time type in the j-Input component
fixed button color in j-Message
added --color support to j-RadioButton
added dark mode to Tangular-JsonFormat
removed opacity from the inline j-Panel
redesigned j-Wiki
redesigned j-Panel
improved j-Part by adding a new replacer for ~PATH~ phrase
improved j-Importer by adding a new replacer for ~PATH~ phrase
added a possibility to send custom data in j-FileUploader
jComponent library
added WORKFLOW() method (more in documentation)
added NAV.custom() that performs background routing without changing of URL address
fixed array.quicksort() method
fixed value re-binding in getter
fixed parsing of URL query arguments
fixed scopes in Array.async()
removed font-smoothing from the spa.min@18.css and spa.min@17.css
Total.js framework 4
Update Total.js 4 via NPM $ npm update total4
added LDAP(opt, callback) method for obtaining of users, groups or user profile (experimental)
added U.normalize(path) that normalizes path by adding / to begin and end of the phrase
added U.link(path1, [path2], [pathN]) links multiple relative paths to the one
added PATH.join()
improved FileStorage.save(id, name, URL address) by adding url address as a new type
improved HTTP caching in merged files
fixed array.quicksort() method
fixed controller.invalid(), added missing second argument called error (optional)
fixed language in WebSocketClient
fixed error handling in TotalAPI
fixed a problem with auto-adding cookies in the REQUEST() method if the response status code is 301 and 302
updated $.extend([data], [callback]) metho in SchemaOptions by adding callback argument that enables async processing
fixed the after argument in the PROXY() and res.proxy() methods
fixed encoding in content-disposition header
fixed UNAUTHORIZED() method
removed allow_debug option
fixed multi-part parser (fixed a problem with UTF-8 filenames), unreleased yet
added support for views in threads, unreleased yet
Total.js modules
added a new module code.js for HTTP synchronization with the Total.js Code instance
fixed user's synchronization in the openplatform module
Total.js AppBuilder
new improvements
fixed small bugs
Total.js Flow
added new component Callback
added new event instance.on('design')
added scrollbar to components
added openplatform option to Flow config
updated markdown syntax
updated wsserver component for Total.js 4
improved context menu
fixed extensions via Flow components
fixed HttpRequest component for Total.js 4
fixed RESTSchema component for Total.js 4
Total.js Documentation
added syntax highlighter for request , config and resource
improved UI
Code Editor
added external projects with help of code.js module
added auto-adding UI components to /js/ui.js and /css/ui.css
added Copy as API routes
added Copy as REST routes
improved UI
improved template + auto-suggestion.
updated jComponent library
updated some UI components
fixed shortcuts for commenting
fixed loading of backups
Flow
added language query argument to the WebSocket address
added directory option to change a main flow directory
fixed localization
CMS
fixed admin layout
fixed case-sensitive URL addresses
DMBS
Update DBMS via NPM $ npm update dbms
fixed the closing of PG connections when fired an unexpected error in callbacks
updated .promise() method by adding $ Total.js Schema/Task/ options or Controller
updated .callback() method by adding $ Total.js Schema/Task/ options or Controller, example:
OpenPlatform
created OpenPlatform Simulator
added origin tokens
improved app form
extended limit for payload from 3rd party services to 1024 kB
fixed obtaining of apps
improved UI
fixed writing stats about app usage
completely rewritten UI with the possibility for various customizations.
fixed one-time password
extended user profile by adding dn column
OpenPlatform module:
We have updated the Total.js OpenPlatform module by adding better handling of errors and security. Download the module again from GitHub.
---