2 min read
January report 2020
A quick summarization of all changes and news from the entire Total.js Platform. Read more about our work.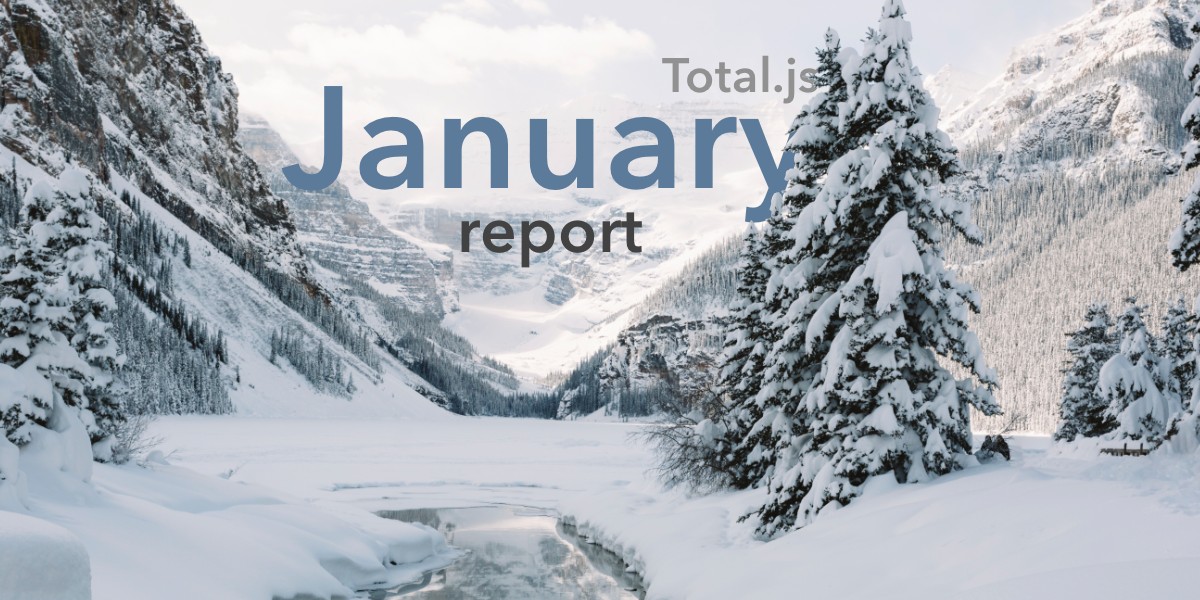 January report 2020
UI components
new UI component: j-Kanban
new UI component: j-Stats24
new UI component: j-StatsBarSimple
new UI component: j-VirtualWire
updated j-DynamicValue added a support for j-Directory
updated j-Part by adding emitting of event in the form parts.+config.if
updated j-ClipboardImage by adding output type settings
updated j-TextboxList by adding darkmode + improved source-code
updated j-CodeMirror by adding new features
updated j-Checkbox by adding large mode and improved code
updated icons in j-FaIcons
updated j-FaIconsButtons by adding empty key in config
updated j-Rating by improved code
updated placeholder in j-Textarea
updated icon in j-Form, supports additional Font-Awesome icons
updated j-Textarea by adding a custom placeholder
fixed scopes in j-InputTags
fixed scopes and dark-mode in j-SearchBox
fixed applyfilter method in j-DataGrid
fixed autofocus in j-Form
fixed dirsource in j-InputTags
jComponent library
+v18 fixed scopes in inline helpers
data-bind in +v18 contains a new required command
fixed a component class name generation in v18 and v17
fixed changing of ENVIRONMENT() in v18
Total.js framework
added: NoSQL Counter can be reseted via .reset() method
added: HttpFile.extension property
added: HttpFile.size property alias to HttpFile.length
updated: .filefs(), .filenosql(), .imagefs(), etc.. by adding checkmeta argument
fixed sessions
fixed generators in Schemas & Operations
Flow
show icons in components-container list by dawnTestCode
replaced j-Modal dialogs for improved j-Form
updated j-CodeMirror by adding new features like multiple cursors, etc.
updated jComponent version
updated component httpdownloader (fixed id) by dawnTestCode
fixed colons in options.external with options.type = 'client' combination
OpenPlatform
added a new feature called Members
users can change own nickname (this option must be enabled by admin)
improved UI
portal mode contains user status (if is enabled)
updated settings by adding new options
fixed online state
fixed user blocking
fixed email notifications
Code
added a new feature called Colorize CSS
improved snippets by adding filename to NEWSCHEMA, PLUGIN and NEWTASK
improved first run by adding a new form Create user
fixed dark-mode in pause section
updated jComponent
DBMS module
fixed db.task() method with db.invalid() combination
added QueryBuilder.searchall() method
added QueryBuilder.inarray(name, value)
fixed or command
fixed builder.subquery() called multiple times
fixed db.stream() added a default sorting
CMS
We are testing a new version of CMS. It will be best ever Node.js CMS in the world.
added 10+ new widgets
improved old widgets