2 min read
November report 2019
A quick summarization of all changes and news from the entire Total.js Platform. Read more about our work.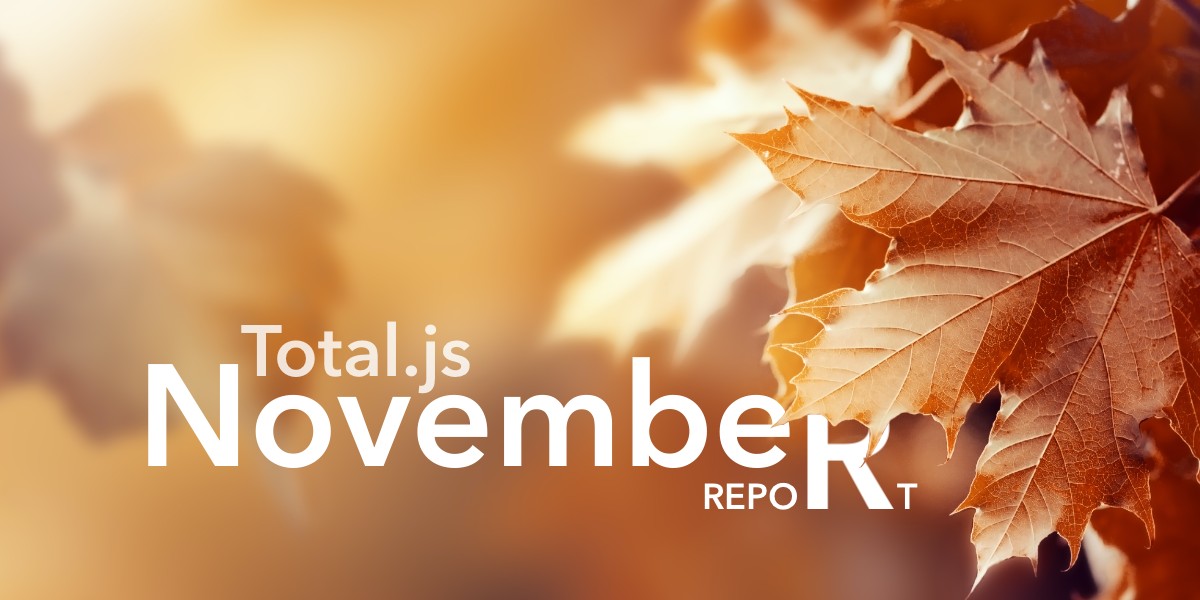 November report 2019
UI components
Today we have 185 UI components. All UI components are free and open-source for everyone. Visit: https://componentator.com
NEW UI component: called j-Dockable
NEW UI component: called j-ServiceWorker
NEW UI component: called j-SearchBox
NEW UI component: called j-Windows
NEW UI component: called j-InfiniteScroll
j-Windows updated resizing and added autosave parameter
Fixed autofill for j-Input and j-Textbox in Firefox
Fixed unexpected behavior in j-Pin
Fixed raw in j-Directory
Small CSS changes in j-DatePicker
Added scrolltop config key in j-ServerListing
Added darkmode into j-NoSQLcounter
Added absolute config key for j-Part (enables absolute position for the component)
Added responsive margin config key for j-Viewbox
j-Properties contains show config key as a custom condition
Improved forcevalidation in j-Input (fixed a number validation)
Improved j-ListMenu
Improved j-Panel, now contains container config key (enables something like ViewBox inside the panel)
Replaced tag A for SPAN in j-Pagination
Updated j-Form by improving UI
j-DataGrid has improved UI, supports better scopes and contians multiple declaration of columns for different views
j-Paramters has fixed self.setter with undefined/null value and improved UI
jComponent library
Total.js Framework
We have released two version of Total.js framework. Second version Total.js v3.3.2 fixes a problem with UTC (Coordinated Universal Time).
Currently we prepare a new version with some bug fixes and small improvements:
$ npm install total.js@beta
Products
Total.js Code
Import & Export of existing users
Added Chat support (Chat is rendered into the independent and windowed iframe)
Added new templates for /versions and /sitemap
Fixed sign-in form, now the Firefox can store credentials
Improved Log cleaner (removed loading)
Improved diff indicator
Improved auto-complete dictionary
Fixed importing of UI components in HTML syntax
Fixed templates
Code editor includes Menlo font - the reason is Windows
Updated jComponent version
Download latest: code.bundle from https://github.com/totaljs/code
CMS
We work on a new version of CMS, we don't know a release date. New CMS will be as a plugin in a new product called Adminer. So adminer will be pluginable via Total.js Bundles. Our plan is to create other plugins like e.g. Eshop.